Austin Air Companie, a Katy, TX Air Conditioning and Heating Company
Hi, my name is Ray Austin. I am not only the owner and operator of Austin Air Companie I am also a client. I have been in the HVAC industry for about 23 years as of 2017. I have an AOS degree in HVAC/R Mechanic, EPA universally certified to handle 'ANY' refrigerant, NATE certified twice in HVAC Repair & HVAC Installations. My HVAC path is rather unique in that I have worked for many different HVAC companies earlier in my career. Not only residential focused but also commercial systems. After I achieved the goal of Texas Licensed HVAC Contractor status I decided to start my own company. It has been a long and winding road. Upon starting my own company I decided to specialize in residential based HVAC systems. While I can work on commercial HVAC systems up to 25 tons, this is not my company focus. Commercial applications tend to be considerably different from residential based systems.
I am a Texas Licensed HVAC Contractor and insured. HVAC is a challenging business, I really view it as nothing more than a part time job. I am really good at what I do. Certainly I am not perfect, there are times where I have made a mistake. I am not afraid to own up to a mistake I made. I come highly rated for a reason, I am in this business to help you and others like you. I can work 60 hours a week on short notice just as much as I can be bored to tears. In the HVAC business they describe it like this 'Feast or Famine'. This business is not only dangerous, it is grueling sometimes working in attics that approach if not exceed temperatures of 150 degrees Fahrenheit.
If you are having HVAC problems at your house I am capable and experienced enough to give you options to get things back in order. I don't use technicians currently (2017) nor have I at any time in the past since starting Austin Air Companie . I have installed complete systems, including zoning by myself. I have methods that work. I work everyday and in most cases (about 80%) of the time I can be to your home within about 90 minutes or less, even with being in business for almost a decade (2018). You can call me directly at (832) 475–6895.
Austin Air Companie provides air conditioning, heating, and zoning services in Katy, TX and the surrounding areas.
My HVAC company primary focus is AC repair for Katy, Texas | Cypress, Texas | Richmond, Texas and in some cases a repair may not be the best approach to solving your air conditioning problems for your home. In those instances I will work with you on options to replace your HVAC system or if possible parts of it (Retrofit Repair – Skills Required!). Obviously the more pieces of your HVAC system that you replace the less likely another break down will occur. However, I am not in the business of forcing you to make a decision you are not ready to make. I will give you options and the choice is yours how you wish to proceed. Realize that in order for your AC system to be the most efficient it can be requires replacing of the entire AC system in most cases. This varies due to what the original equipment consists of. I work on and repair all brands. Certain configurations of equipment that are prone to failure I will not offer because experience tells me I can't waste your money and keep getting your business, so there is a limit to what I will or won't do to attempt to repair your HVAC system. My ultimate goal is to give you options that will work. Certainly your break down risk is higher when replacing only one piece of an aging HVAC system. These options will only be discussed in finer details in person at your home. I am not a fortune teller and no two homes are the same, I have to know what I am dealing with in the way of configuration as well as equipment models that are in the home to be able to give advice.
To set your in home appointment call me directly at (832) 475–6895.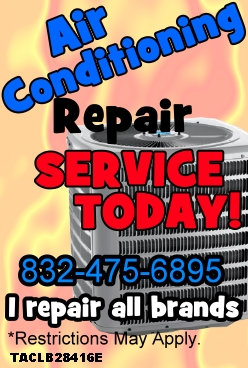 While the heat of the summer months is quite extreme, our winter season is very mild. However, this does not mean that you can afford to forgo a heating system altogether. In order to ensure that your comfort is protected all year long, a great heater is a necessity. It may not see quite as much action as your air conditioner, or be up against the same level of challenge, but it is vital nonetheless. If you need a new heater for your home, or you are concerned about your existing system for any reason at all, give me a call and I will provide you with the outstanding heating services that I know you deserve. I am happy to take your call, and I generally make it to your door within 90 minutes of receiving it. There is no cutting in line or preferential treatment when you work with me. I value my customers and their business, and everyone is treated fairly.
You don't only have one light switch in your home, do you? Of course not; you want to be able to illuminate different areas of your house at different times, and in different manners. I believe that you should be able to do the same when heating and cooling your home. That is why I am happy to offer zoning services in Katy, TX. With the use of zone controls, you can heat or cool only those areas you want to, and to the temperature you desire. Call Austin Air Companie today to learn more about how I can improve your comfort.