Austin Air Companie, a Katy, TX Air Conditioning and Heating Company
Katy Texas Area Air Conditioning Service & Repair Company:
Hi my name is Ray Austin, I am owner and operator of Austin Air Companie. I have been servicing the Katy Texas and surrounding areas since 1999. I became a Texas licensed HVAC contractor nearly a decade ago and 2018 will mark my 10th year anniversary of being in HVAC business on my own. I have been involved in the HVAC field since 1994, and in 1996 I graduated trade school with AOS degree as HVAC / R Mechanic. This accronym stands for Heating, Ventilation, Air Conditioning / Refrigeration. My total HVAC experience spans nearly a quarter of a century at 23 years as of 2018.
I hold a Texas HVAC contractors license to work on HVAC equipment up to 25 Tons in capacity. My company specializes in Residential based HVAC systems and methodologies of repair and in some cases system redesign for energy efficiency. While I can and do occasionally work on larger equipment in light commercial and light industrial these parts of the HVAC market are not my primary focus. I am a one man shop and have built my HVAC business from scratch with the premise of great fast service and AC repair. Because I am the one who will personally visit your home to find your HVAC problem(s) or address your air conditioning and heating needs I think it's important for you to have some knowledge up front of who you are inviting into your home.
I do sell and install new HVAC equipment. HVAC is a skilled trade, you have to understand this up front. Skilled labor isn't cheap and cheap labor isn't skilled. For that reason I do not install very much HVAC equipment. I am good at what I do and my service record is impeccable over the 10 year period I have been in HVAC Service business. I am human, on very rare occasions I have made mistakes. Many times you will never know or realize this, because I do the work myself I know the difference between what works and what won't and I fix my little mistakes before they become apparent to you. Please refer to: Skilled labor isn't cheap, and cheap labor isn't skilled. I am a straight shooter (tell you like it is). My opinion is that if you are old enough to own a home, you are old enough to handle the truth. I don't sugar coat anything. Some people like this 'truth' based approach and some do not. I will in many cases give you a myriad of options to rectify your HVAC problem, you simply pick an option I provide you with. With that said, I will not bash equipment due to age, name, make, model etc. Equipment bashing of this nature is unprofessional. All equipment fails at some point. No brand is immune to this, regardless of what is said in an advertisement. 'No Gimmicks' means 'no gimmicks' here. Realize my opinion is based on 23 years of hands on experience.
I am EPA Universally Certified to handle ANY refrigerant. (often called Freon).
Refrigerant (Freon) Leaks & Repairs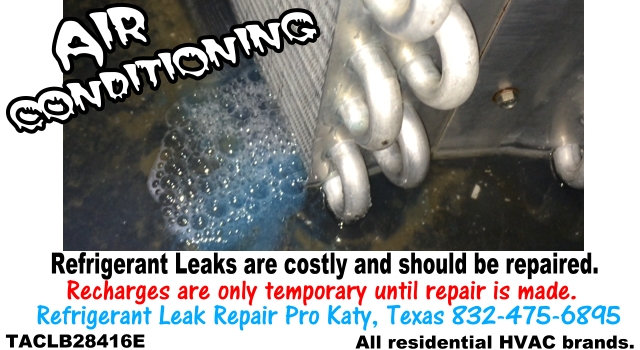 Freon is a registered trademark of The Chemours Company. It is also listed in the dictionary as:
an aerosol propellant, refrigerant, or organic solvent consisting of one or more of a group of chlorofluorocarbons and related compounds.
There are many kinds of refrigerants. I am licensed to safely and responsibly handle them. For the sake of keeping this short, Freon means refrigerant. Your HVAC system needs the proper refrigerant and the proper amount needed for your system to operate properly and efficiently and the kind and amount of freon your AC system requires can vary due to a host of factors. I NEVER mix refrigerant types, nor do I reuse old refrigerant for very important reasons (cleanliness of refrigerant system). This is not nor has it ever been proper practice. If you don't use the proper virgin refrigerant to make repairs (no matter what you call it–– freon or whatever) your system will likely not perform well and your AC system could be damaged beyond repair. If you are confused please realize I am not. I am well versed in freon (refrigerant) repairs of this nature.
Further information and understanding: HVAC equipment does not use up Freon (refrigerant). Your HVAC system only needs refrigerant (freon) in the event your system has started to leak refrigerant. If I do not find and fix the leak, the freon will leak back out over time depending on severity of the leak. Due to increased cost of Freon (nearly all refrigerants have gone up in cost.) It is recommended you repair the leaks. This is a constant challenge mostly due to ever rising costs. There are really only 3 refrigerants currently designed to work 'properly' with the HIGH TEMP air conditioning application, with a few more that are being considered. Katy, Texas area is a hot humid tropical climate. If you don't use the proper refrigerant for your system it is my experience you will regret this decision in short order due to the heat of this climate we live in. For those reasons, be careful who you listen to. If you have the money for a new AC system, go ahead and do whatever you want. Don't say I didn't warn you.
As of 2018 there is no such thing as a perfect refrigerant. They all have flaws to one degree or another.
Different applications call for different designs as well as different kinds of refrigerants (freon). Common applications are: High Temp air conditioning, Medium Temp refrigeration, Low Temp Freezers. Realize what I talk about in regards to refrigerants (freon) on my website and Katy Texas Air Conditioning Blog are only in how they pertain to the High Temp Air Conditioning Application.
It is very common for people to try to self diagnose their HVAC system I can't tell you how many times someone calls me and tells me: "Hey, my AC stopped working and I think I need some freon." Certainly, your AC system may need freon and those refrigerant leaks repaired. This does happen, but you may be surprised to hear that nearly 90% or more problems are due to electrical problems with your air conditioning system. Things like AC keeps tripping breaker, AC will not run or turn on, AC fan motor won't spin up, AC condenser is hot to touch or AC condenser is burning up, AC condenser turns on then shuts off. Air Conditioning Electrical Problems not corrected properly can lead to more problems.
Austin Air Companie provides air conditioning repairs and HVAC maintenance services in Katy, TX | Cypress, Tx | Richmond, Tx and the surrounding areas.
The Air Conditioning Installation animation above is an elaborate example of my work.
My HVAC company primary focus is AC repair for Katy, Texas | Cypress, Texas | Richmond, Texas and in some cases a repair may not be the best approach to solving your air conditioning problems for your home. In those instances I will work with you on options to replace your HVAC system or if possible parts of it (Retrofit Repair – Skills Required!). Obviously the more pieces of your HVAC system that you replace the less likely another break down will occur. However, I am not in the business of forcing you to make a decision you are not ready to make. I will give you options and the choice is yours how you wish to proceed. Realize that in order for your AC system to be the most efficient it can be requires replacing of the entire AC system in most cases. This varies due to what the original equipment consists of. I work on and repair all brands. Certain configurations of equipment that are prone to failure I will not offer because experience tells me I can't waste your money and keep getting your business, so there is a limit to what I will or won't do to attempt to repair your HVAC system. My ultimate goal is to give you options that will work. Certainly your break down risk is higher when replacing only one piece of an aging HVAC system. These options will only be discussed in finer details in person at your home. I am not a fortune teller and no two homes are the same, I have to know what I am dealing with in the way of configuration as well as equipment models that are in the home to be able to give advice.
To set your in home appointment call me directly at (832) 475–6895.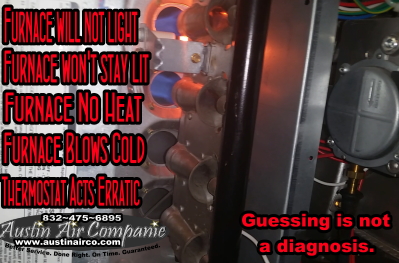 While the heat of the summer months is quite extreme, our winter season is very mild. However, this does not mean that you can afford to forgo a heating system altogether. In order to ensure that your comfort is protected all year long, a great heating system (furnace) for your home is a necessity. It may not see quite as much use as your air conditioner, or be up against the same level of challenge, but it is vital nonetheless. If you need a new furnace for your home, or you are concerned about current HVAC problems your existing system is having, give me a call and I will provide you with informative HVAC maintenance and repair services and schedule your service immediately in most cases. I am happy to take your call, and I generally make it to your door within 90 minutes of receiving your call. Many of my customers develop first name basis thru repeated maintenance and repair services for their HVAC systems. Wouldn't you like that same feeling in your HVAC comfort service and repair provider? I'm only one call away. 832–475–6895
You don't only have one light switch in your home, do you? Of course not; you want to be able to illuminate different areas of your house at different times, and in different manners. I believe that you should be able to do the same when heating and cooling your home. That is why I am happy to offer HVAC zoning services in Katy, TX. With the use of HVAC zone controls, you can heat or cool only those areas you want to, and to the temperature you desire. Call Austin Air Companie today to learn more about how I can improve your comfort and improve your home efficiency. My name is Ray Austin (832) 475–6895.