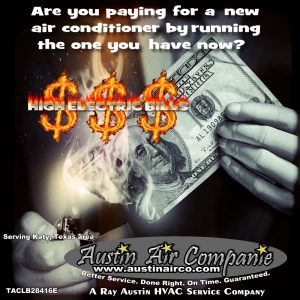 This time of the year for the Katy, Texas area it is not uncommon for electric bills to start inducing a bit of shock and awe into people. This blog post is for the Katy, Texas area primarily because we run and depend on our AC systems upwards of 10 months of the year most years. If you keep your dial set at 75F degrees that is around 2300 hours. That's alot of run time. If you like it cooler than 75F in your home, your AC system is running much more than normal. If the AC operational cost is 65% of your homes utility cost and you are running the AC really hard? Well there's good reason why your electric bills are high, but sometimes this is more complicated than you think.
UPDATE: June 10, 2021. New embedded video below updating my own personal experience & better describing what this new air conditioning technology is, how it works and why you'll likely want one.
Complications of high light bills is that no two people pay the same electric rate any more. So part of your problem *may be* that you are paying a higher rate than you should. But fear not… I break this down like no one. Because I made some upgrades at my own home in late 2019. I saved some old light bills to show you comparisons of how my old 14 SEER single speed AC performed versus the new 18 SEER Inverter AC.
To find out if this new technology may be right for you? You must schedule an in house visit. There is a cost for this service. It is to determine if this is right for you or not. This can only be done in person & you must be the owner of the home in question. This is not for renters.  To get on my schedule call Ray Austin at 832-475-6895.
Whoa, Inverter AC? What's that? It's a recent new comer to this market. As with everything especially Air Conditioners there are pros and cons to this. However, I think the pros outweigh the cons and because this new machine has the ability to cut your light bill in half. That alone makes it worth the risk. (It pays for itself.)  Is it for everyone? Probably not. If you like it cool with less humidity in your home there isn't anything that I know of that can beat it. Obviously the more AC systems you have at your home, the more it will cost. It involves equipment replacement to various degrees. But it is a smarter overall solution as there are no proprietary controls to worry about as well as a few other perks.
Even if your AC is less than 10 years old, this *might* still cut your electric bill in half. It's not just a run of the mill new air conditioner. It's an air conditioner that ramps up and down depending on the heat load on the home. Your current AC is probably either on or off. This air conditioner has many different speeds. This is how it saves you money off your electric bill. Then all you have to do is find a good electric rate and you're set.
How much could you save every month? If your AC is really old like 15 years or more… you'll wonder why you didn't look into this sooner.
Air Conditioning Contractor Cuts His Electric Bill In Half With New Inverter Air Conditioner
Here's some proof to back up what I am saying.  The reason I am comparing to 2018 is that I paid a higher rate in 2019, I am trying to be as fair as possible here. This isn't a gimmick. (nor is it solar panels, the biggest caveat with solar is no room to put them + higher up front cost). These bills are for my home in Katy, Texas a single story home 1910 square foot, with 1 HVAC system configured as 4 Ton Inverter AC system. (over 50 speeds the compressor runs in.)
May 2020: The savings are ramping up!
June 2020: The savings holding steady at 50% reduction. It's been HOT!
July 2020: Man you thought it was hot in June? Really hot this month, the savings take a turn higher! Wow! Over $100 in savings, that's awesome!
Comfort means different things to different people. Some will disregard what it costs to operate the machine, they are more worried about the upfront cost not realizing that buying a better machine will eventually pay for itself via a reduction in the cost to run it. Obviously if you don't run the machine you have now because you like it hot in your home, then the machine you have now is good for you.
If you like it cool like 75F or lower, this new machine may be the one you've been looking for. Thank you for visiting with me today! As always I hope your day is comfortable.
About the author of this Katy, Texas Air Conditioning blog:
My name is Ray Austin. I am the owner and operator of Austin Air Companie, a HVAC Service Company serving Katy, Texas | Cypress, Texas | Richmond, Texas and some surrounding areas. I am a Texas Licensed HVAC Contractor with 26 years experience in Air Conditioning and Heating Systems as of August 2020. I hold an AOS degree in HVAC/R, EPA universally certified to handle any refrigerant and NATE certified in HVAC installations and repairs. I also own and operate a Rental Real Estate business. I know real estate! It's unlikely to find another company truly like me. When I say 'Service': I actually mean it.
Austin Air Companie
832-475-6895
"Your home comfort from A to Z"
Air Conditioning | Controls | Heating | Zoning
A Ray Austin HVAC Service Company
The home of better AC service.
Welcome home!
For more Air Conditioning Information:
Katy, Tx AC blog, service and repair videos,
tips and everything air conditioning and heating
for your home you can always visit me on my main website @
Better Service. Done Right. On Time. Guaranteed.