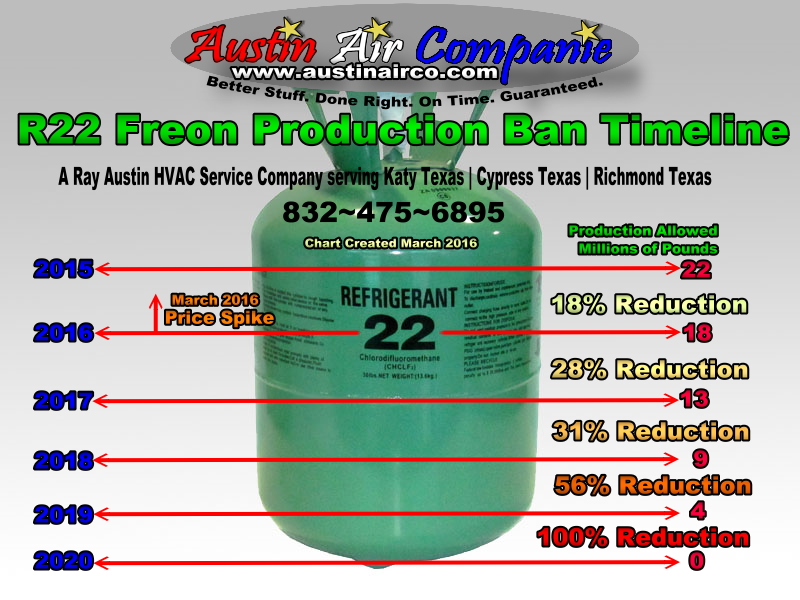 R22 Freon, the chemical coolant used in home air conditioners since the 1960's is marking it's final seasons until it will no longer be produced. The chart graphic above shows the year and the amount of R22 Freon allowed to be produced for that given year until January 1, 2020 when no more R22 Freon will be produced beyond that point. The production limits are set and controlled by the EPA and can be further changed at any time. The chart reflects the last Rule Change for production limits set by the EPA in October 2014.
There will likely be small amounts available after 2020 as older reclaimed R22 refrigerant is turned in and sent off to reclaim centers that clean it of contaminants and resell it as virgin quality once it has been cleaned of impurities. However, prices will likely be very high and very likely strict limits will be placed on how much can be bought at one time.

Once these strict limits are placed on how much can be bought it is very likely in my opinion that system recharges will no longer exist. Home owners and businesses will be forced to fix the leak(s) or replace and upgrade the air conditioning equipment to R410a Puron refrigerant. It is in your best interest to make plans now to either fix your AC system refrigerant leaks or come up with a plan to replace your AC system to the newer R410a refrigerant.
R410a is the replacement refrigerant to R22 Freon. While it is the newer standard, it isn't all that new. It has just taken a long time for it to gain acceptance because the pressures are higher and better service practices are required when working with it.
Because of these requirements certain HVAC companies held off making the change, I think partly due to ignorance, partly due to laziness and even more likely the cost forced onto you the consumer because it's in your best interest to replace the whole AC system when changing over instead of just one piece of the system. Taking short cuts with an R410a system is less forgiving than with an R22 Freon system.
Like I said above R410a Puron isn't new. It became available in the mid 90's. It's pressures are higher and the equipment that uses it had to go thru special processes to ensure the higher pressures could be handled appropriately. Additionally it requires the use of synthetic oil, where as most older R22 systems today use mineral oil. Your R22 Freon system will not work with R410a Puron. I'm sure you might have been thinking that. There's more differences between the two systems than oil types and pressures. There's also refrigerant flow which relates to capacity of the system. Your current AC simply will not work to recharge an R22 Freon system with R410a Puron. It will not work.
Remember, the makings of a scam is something that is "too good to be true." Be smart about it, you will be glad you did.
If you would like to know more about this subject you can watch several videos I've made on the subject as well as a lot of text on the subject since 2009. You can click the link below to open that page from my main website.
R22 Freon VS R410a Puron The Facts
I hope you have found this information before you made a costly mistake. I have installed as well as retrofitted countless systems over to the newer R410a refrigerant for years now. I'm sure I could do the same for you and your family.
Thank you for visiting with me today! I hope your day is a comfortable one.
About the author of this blog:
My name is Ray Austin. I am the owner and operator of Austin Air Companie, a HVAC Service Company serving Katy, Texas | Cypress, Texas and some surrounding areas. I am a Texas Licensed HVAC Contractor with over 20 years experience in Air Conditioning and Heating Systems. I hold an AOS degree in HVAC/R, EPA universally certified to handle any refrigerant and NATE certified in HVAC installations and repairs.
Austin Air Companie
832.475.6895
"Your home comfort from A to Z"
Air Conditioning | Controls | Heating | Zoning
For more information:
videos, tips and everything air conditioning and heating
for your home you can always visit me on my main website @
Better Stuff. Done Right. On Time. Guaranteed.