In the embedded video below I show an elaborate example of my air conditioning repair service in Katy, Texas in which I repair a refrigerant (freon) leak.
To start this topic off the right way it would be to tell you that 'Freon' is an improper term as it merely is a trademarked name owned by Chemours Company which was previously owned by Dupont Corporation. Dupont did a good job at putting this branded name on the lips of people across this country over the past 50 years or so.
The reason I use the term Freon is for ease of understanding for the customer base I serve. Nearly everyone out there knows that Freon means coolant or refrigerant for your air conditioner.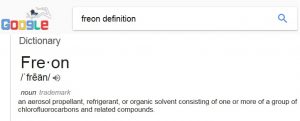 In fact if you search the meaning on line it gives refrigerant as the definition of the term. If you are here reading this right now you may be surprised when I tell you there are dozens and dozens of different kinds of refrigerants. This is really the main reason that Freon is an improper term. For the sake of understanding is the only reason I have gone this far to explain it.
For the application of high temperature air conditioning the refrigerant list is much smaller. This statement is to show you the subject of refrigerant leak repair is broad. For the sake of keeping this simple my focus is only the high temperature air conditioning application for your home or small business. Most of my HVAC service and repair work is for the residential air conditioning market in Katy, Texas area.
I am EPA universally certified to work with any refrigerant. This is important to point out, because if someone works on your system without proper knowledge it could make matters worse. There is skill involved in performing AC refrigerant leak repair like the one shown in the embedded video at the top of this blog post.
Because R22 also widely known as Freon, is being phased out (Production Ban begins December 31, 2019) there is a plethora of misinformation regarding various other refrigerants being used to replace it, because R22 is used in more than one application certain refrigerants have been developed for those applications and not the high temp air conditioning market. There are very good reasons why a certain refrigerant is selected or not selected for it's intended application.
Because I am knowledgeable in these things it may in some cases make me come off as a know it all and that's ok, but let me put it to you this way – I specialize in the air conditioning market for residential based HVAC systems if I don't know a lot about something I specialize in I am in serious trouble right? I have a broader knowledge than that, but I don't delve into those areas – because my sole focus is the Residential HVAC Market. While I do from time to time service commercial HVAC systems up to 25 Tons, this market is not my focus and is quite different from a service and repair aspect alone.
No Drop In Replacement For R22 Freon
So when you hear me say there is no drop in replacement for R22 Freon, realize I am saying this as it is for the High Temperature Air Conditioning Application. This is as of 2018. Time doesn't stand still, the HVAC industry is continually evolving.
When I say 'drop in replacement' it does not mean mix it with whatever refrigerant is in your current system. The HVAC industry is full of people who don't understand various terminology as it relates to refrigerant repairs and proper practices. There is no HVAC manufacturer that will warranty a system that has been charged with improperly mixed refrigerants.
Residential Air Conditioning Repair Specialist
Realize that what ever refrigerant your system has I am knowledgeable enough to know what type and kind you need. I only use virgin quality refrigerants. I do not reuse refrigerants that are pulled from your system to make repairs. Due to refrigerant contamination, it is never a good idea to do this practice. If I can store your AC system refrigerant in your AC system without removing it to make a refrigerant repair that is a completely different and longer story that I will not get into here.
The key to a well working air conditioning system is one that is not only free of refrigerant leaks, but also clean refrigerant with no acid. Acids can form under intense heat, so the threat is always present. Once acids form in the refrigeration circuit they start to eat away at the lining of your compressor windings. Once this thin protective layer on the windings of your AC compressor has been eaten away, your compressor will have a direct short to ground. An air conditioning compressor will not run with a short to ground. So you would be looking at a new AC unit at that point. Not any fun if you just spent money on a repair to your AC system.
You Will Always Need A Good HVAC Repair Man
Remember, whether you decide to repair your air conditioning system or replace it with a new one, you will always need a good knowledgeable HVAC repair man. If you live in the Katy, Texas area maybe it's me?
Thank you for visiting with me today. I hope your day is comfortable.
About the author of this blog:
My name is Ray Austin. I am the owner and operator of Austin Air Companie, a HVAC Service Company serving Katy, Texas | Cypress, Texas | Richmond, Texas and some surrounding areas. I am a Texas Licensed HVAC Contractor with 23 years experience in Air Conditioning and Heating Systems. I hold an AOS degree in HVAC/R, EPA universally certified to handle any refrigerant and NATE certified in HVAC installations and repairs.
Austin Air Companie
832.475.6895
"Your home comfort from A to Z"
Air Conditioning | Controls | Heating | Zoning

For more information you can also visit me at my main website at:
Better Service. Done Right. On Time. Guaranteed.