It's really hot out there today. This is the time of the year in which many that have had problems with their AC it's long been fixed. (Hopefully)
There are those that are likely in the process of getting theirs fixed or putting it off because the AC broke unexpectedly. There is a lot of bad information out there in the internet world… please do not make the situation worse by attempting to fix it yourself or worse yet hire someone that is not licensed to work on it.
I have a good track record of repairing older systems. If and when it comes time to replace your AC I have a good track record there as well.
My Katy, Texas AC Company Is Different
I run my own AC company. You get someone with greater knowledge. How I fix things works. I write my own blogs, make my own you tube videos. If something else breaks, I fix it. I don't make excuses. I don't offer gimmicks. I offer true HVAC service and repair each and everyday 362 days a year.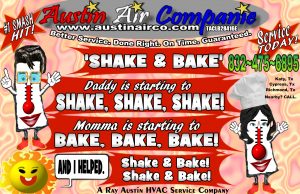 AC Stories Coming To You Tube
I have some really unique stories that I plan to share soon on my you tube channel. One call in particular was a company that called me for a quote to replace a compressor.
I didn't just give them a quote for the compressor. I checked to see what was wrong with the one that was so called bad. Good thing I checked because there was nothing wrong with the compressor. It was a minor electrical problem that was causing the issue.
I saved this company over $2600.00 on something they didn't need.
Folks, this is why you pay for service. This is why you hire knowledgeable licensed HVAC contractors. I harp on this a lot in various blog posts I've written here and other websites that I own and operate. Time goes by, but nothing changes really. It's the same thing that has gone on in the past. The lure of cheap service contracts… subscribe to my you tube channel here, the video is coming soon.
About the author of this blog:
My name is Ray Austin. I am the owner and operator of Austin Air Companie, a HVAC Service Company serving Katy, Texas | Cypress, Texas | Richmond, Texas and some surrounding areas. I am a Texas Licensed HVAC Contractor with 23 years experience in Air Conditioning and Heating Systems (TACLB28416E). I hold an AOS degree in HVAC/R, EPA universally certified to handle any refrigerant and NATE certified in HVAC installations and repairs.
About Austin Air Companie:
Austin Air Companie
832-475-6895
"Your home comfort from A to Z"
Air Conditioning | Controls | Heating | Zoning

Better Service. Done Right. On Time. Guaranteed.